This is the preliminary programme. Updates and minor changes will follow.

Exhibition – Memory, Word and Image: Tacita Dean at Boekie Woekie: Books by Artists 9.12.2019 – 6.1.2020
December 14, 2019
–
5:00 pm
–
6:00 pm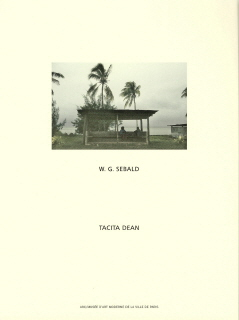 This small exhibition complements the screening of Tacita Dean's Michael Hamburger, 2007, at the Stedelijk Museum, 14 December, 15.00. 
Tacita Dean made a book entitled W.G. Sebald in 2003, in which she used the writer's methods to narrate instances of her own biography and (family/world) history: through a journey from the Dutch-German border to Düsseldorf to prepare an exhibition. 
The curator of this current display, Christa-Maria Lerm Hayes, has in her writing (re-)inserted Joseph Beuys into Dean's narrative and investigated the interwoven ways in which Beuys, Sebald and Dean have engaged with recent German history and the memory of War and Fascism. 
To her, it seemed apposite to show her work here: Jan Voss, co-founder over 30 years ago of BoekieWoekie, is an artist who studied at Beuys' former workplace, Düsseldorf Academy (with Diter Rot). This exhibition seeks also to point to BoekieWoekie: Books by Artists itself: as an artwork, a lived history and a social practice. It carries the memory, through books, words and images, of a different Amsterdam.
Tacita Dean believes in serendipity and has through her work sharpened our attention to and appreciation of what is about to disappear – maybe to have a small part in making it remain, at the very least in our memories: an inspiration for a different future.
Boekie Woekie: Books by Artists, Berenstraat 16, 1016 GH Amsterdam, open daily, 12-6pm